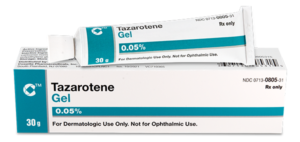 Bridgewater, NJ, United States. September 20, 2022. Cosette Pharmaceuticals, Inc ("Cosette") announced that the U.S. Food and Drug Administration (FDA) has approved the Abbreviated New Drug Applications (ANDA) for the first generic versions of TAZORAC® (tazarotene) gel, 0.05% and 0.1%, with 180 days Competitive Generic Therapy (CGT) exclusivity. Cosette has already commenced commercial shipments, triggering the 180 days exclusivity.
Apurva Saraf, President and CEO of Cosette Pharma, stated, "this approval and immediate launch represents an important milestone in the evolution of Cosette, and reaffirms our commitment to world class R&D and operational excellence. Since we reset and refocused our R&D efforts in mid-2020, we now have several niche ANDAs pending with the FDA and look forward to the future approvals and launches"
This launch will enable Cosette to continue to build upon its unparalleled quality track record and leverage its United States based manufacturing site in Lincolnton, NC.
About Cosette Pharmaceuticals, Inc.:
Cosette Pharmaceuticals, Inc. is a US-based, fully integrated pharmaceutical company with capabilities in product development, manufacturing, and commercial operations. The current products focus on complex dosage forms including topical creams, ointments, oral liquids/solutions, suppositories, and injectables. Cosette has a long history of quality manufacturing, consistent supply, and commercialization success, including two sites (New Jersey and North Carolina) supported by more than 350+ dedicated employees across all functional areas. Cosette has a fast-growing portfolio of branded pharmaceuticals, consisting of products in cardiology, women's health and pediatrics. Cosette is backed by Avista Capital Partners, a healthcare focused private equity firm. www.cosettepharma.com
Follow us on LinkedIn.
TAZORAC® is registered trademark of Almirall
Contacts:
Serge Ilin-Schneider: [email protected]
Kian Kazemi: [email protected]